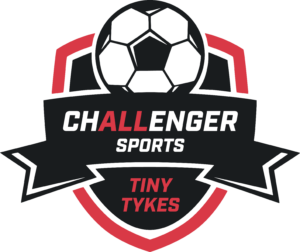 Coaching with fun and care
TinyTykes teaches basic soccer skills to ages 2-5. Challenger's professional coaches will take your young player on a journey to imaginary destinations through soccer, music, storytelling and games!
Sessions are focused on learning motor skill development, balance, coordination, concentration, listening skills and teamwork.
Developed by child care and soccer experts
Our innovative curriculum has been developed by leading educators to focus on the key areas of child development. TinyTykes become well-rounded, confident players as they develop their skills and have fun!
We'll help you get started. And keep going.
Hear from TinyTykes parents
Parents have trusted Challenger Sports for over 30 years for an engaging, high-energy soccer experience for their children. Many families have players who attend year after year — see what they like best about our programs! 
We know there are a lot of programs out there and at the preschool age there is a lot to consider! Let us help you understand ours so you can make an informed decision or get the assistance you need.
UP TO ONE HOUR PER WEEK FOR 6-12 WEEKS, AGES 2-5
TinyTykes has been created by childcare specialists to introduce children aged 2–5 years to the basic skills of soccer through a series of fun games, stories, songs and skill building activities. In addition, children will explore and learn in a relaxed and fun environment building upon their motor, social, physical and emotional skills.
Sessions typically run for 45 minutes to one hour and are held once a week. Program length can vary from site to site, but normally you sign up for 6-8 weeks at a time.
It can run depending on the region and host organization but typically our TinyTykes programs are weekly sessions that mirror the spring and fall soccer seasons. 
In some parts of the US we will start TinyTykes in February; or possibly offer sessions outdoors as late as early December. 
If we partner with an indoor facility or a school with a small gym or activity room, then we can offer TinyTykes year-round.
We also offer week-long summer camps too, which are normally part of our Core Camps division- we will tend to offer these earlier in the morning before the longer camp for kids aged 5yrs+ start. Visit our Core Camps page to find out more on this type.
It can vary depending on your location, so always check, but typically you do not need to bring any equipment other than suitable footwear and clothing. We do recommend shin guards.
Most of our sessions offer a program package, which includes a choice of uniform, ball or other free gift. If we send you a ball, it is yours to keep. Your coach will normally provide balls for the session. If you are sent a uniform and want to wear it then please do- we find that kids love that! However it is not compulsory.
He's our mascot! See below!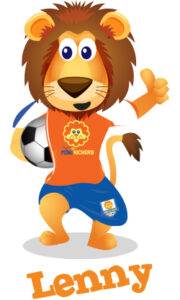 Soccer is the medium we use to deliver our lessons, but the true focus is on developing a child's balance, agility, coordination, color recognition and numerical learning, whilst also increasing their confidence and social skills in a fun and relaxed environment.
That being said, in some locations we offer a multi-skills program too. Dan to add anchored link once page ready.
Got more questions? we have the answers
We would love you to contact us- it is our goal to help you find what you need!
Contact our Customer Service team:
Speak to someone about a camp specific issue: