Experience the soccer coaching journey of a lifetime with Challenger Sports
Travel & Explore North America
The ultimate summer awaits you.
Meet new people and experience the culture of the U.S. and Canada! As a Challenger Sports coach, you'll gain the valuable experience that only traveling abroad can provide.
You'll be fully trained to deliver our week-long camp curriculum, and work alongside other outstanding soccer coaches to create a great experience for you and the next generation of soccer players!
Contracts available year round
Based in the US or Canada?
We offer short or long-term, part or full-time options, across North America. Contact us to see if we're a good fit for you and if you're a good fit for us!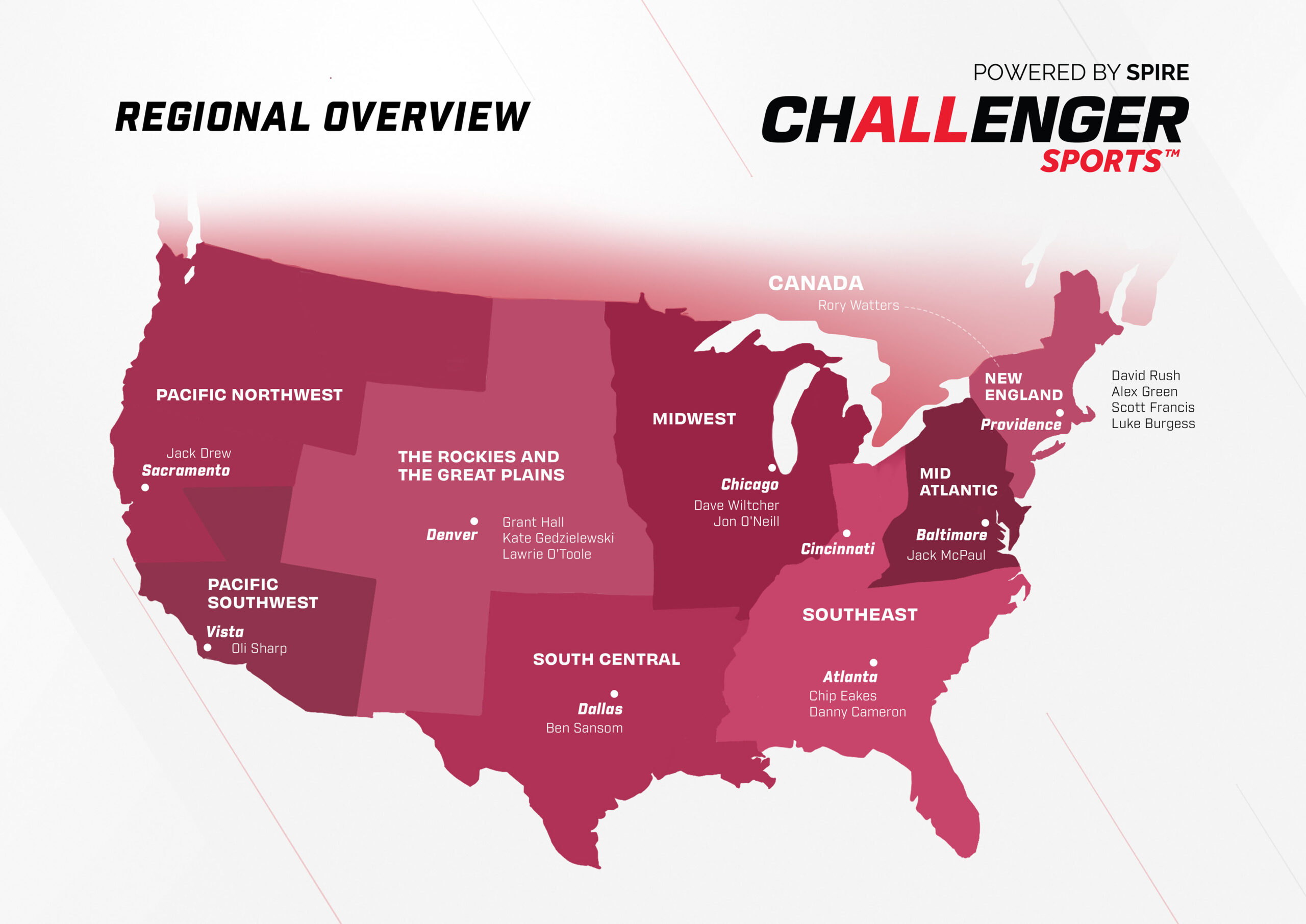 Contact The Team For More Information on coaching opportunites with challenger sports
UK, Ireland and European Coaches
Here are some of the questions we get asked about our opportunities from the UK and Ireland to coach soccer in North America.
We have contracts that range from 9 months through to 6 weeks. Our summer programmes have contracts that differ in lengths from 6 weeks through to 13 weeks.
Our Academy Programme offers coaches the opportunity to coach in the USA for up to 9 months from the Spring, through the summer and into the Fall.
Click the 'Get Started' button in the header to apply online.
There will be a short online interview. If successful we will offer you a contract and a choice of training day locations at our 4 regional centres across the UK & Ireland.
In order to work legally in both the USA and Canada you will be required to apply for a work visa. Challenger Sports will help you through the process of gaining your visa.
Our summer programme runs from early June through to the end of August. Our Academy programme runs from January/April through to October/November.To be considered for an Academy position you MUST be able to commit for that length of time.
As a first year coach with Challenger Sports you may request a region where you wish to work, but this is a request and not a guarantee. Our returning coaches will get a choice of which state they want to work in, as a thank you for the previous year's efforts. The placement of coaches in regions is dependent on a number of factors which include, availability (how many weeks you are available, what's your earliest start date and when is the latest you can work), your age, experience and qualifications and whether you can drive, just to name a few.
Challenger Sports will provide a car. Please be advised that you can only drive the car if you have a current and valid driving licence. If you are on a camp and are a non-driver, then you will be either picked up for camp by your fellow coach(es) or your host family may bring you to camp each day. Our experience is your ability to drive or not drive will significantly affect your experience as public transport is extremely limited outside of the largest cities.
The majority of our coaches will work what we call "full days" which is 6 hours a day made up of two 3 hour sessions each day, Monday through Friday. There may be the occasion where you are on a camp which is a "half day" camp which means that you will be coaching for 3 hours each day.
All of our coaches who work in the USA get the week of July 4th off as this is Independence Week and is a National Holiday. If you are working in Canada you will get the week of July 1st off as that is Canada day. You will get most Saturdays off (exceptions are rain make ups/coaching clinics) and then travel to your next location with your fellow coaches on the Sunday.
Yes you can. You will have up to 30 days to travel as a summer coach once your contract ends. If you are an Academy coach the duration that you can travel is determined by your visa.
No. If you wish to travel that is fantastic, however your International flights will be booked in and out of the region that you are coaching in. If you do decide to travel once your contract finishes (highly recommended) then it will be your responsibility to get yourself back to the airport for your International flight home on the date you have chosen.
Yes you are. You will be covered for the duration of your coaching period- your insurance will finish on the Sunday after your contract ends. Once your contract has finished if you are then travelling then you will need to get yourself additional insurance.
Before you arrive into the US/Canada and upon arrival you will be given your health care card and a full outline of the insurance policy.
Showcase your abilities beyond the pitch
Additional opportunities exist for office positions working behind the scenes. Challenger Sports works with motivated individuals to bring quality soccer programming and uniforms to communities across North America.
We are always looking for staff with a variety of skill sets who have a passion for soccer and are looking to play their part in growing the game!
Contact Andy Bennett
Chief Commercial Officer I Snr. VP
678-540-1592
abennett@challengersports.com
Do you want to hire a coach for your own organization?
Challenger removes the headaches of hiring for your club or organization. We do the background work to recruit, train, deploy and manage coaches and trainers for local soccer organizations — saving you the time and trouble involved with employing a full-time team.
Contact Alex Green agreen@challengersports.com if you have further questions.
Level up your coaching skills
Develop your own coaching potential on and off the field with our resources and educational opportunities. We have the right partners to help you achieve your career goals, and become the coach who inspires and encourages players to do the same.