We know it can be hard to find what you need sometimes, and we do offer a lot. Hopefully looking through the section below help you find what you need. If not, please contact us as maybe we need to add your question!
Swipe / scroll for more topics!
Core Camps
Formerly known as our International Soccer Camps. Staffed by international and domestic coaches. Incorporates the best coaching methodologies from around the world and brings them to players across all of North America. More than just a soccer camp; a cultural, educational, and informational program that uses soccer to teach core values of responsibility, integrity. respect, sportsmanship and leadership.
Designed for ages 5-14. 
Team Training programs are available for all of our camps too
---
Elite Camps
Week-long day or residential camp options for the Elite player looking to continue their soccer journey towards college. Aimed at 11yrs+. Includes options at the collegiate and international level.
---
TinyTykes Summer Camps
3-5 year olds. 45 minutes- 1 hour per day. Fundamental practices and skill-building activities in an immersive adventure!
---
Core+ Camps....coming soon!
Week-long summer camps which expand upon Challenger's traditional Core Camp curriculum. Offered as an alternative or as a progressive option- check out the individual options to see what is the best fit for you and your young player!
---
Team Camps: 3 or 6 hours per day, ages 8-18
Custom created programs designed to work on the areas of the game that are needed most by your team. A great Pre-season program that will get players in shape and game ready for the upcoming season.
Nothing has changed, we have just relabeled our main camp offering! The Core Camp is the International Soccer Camp....or if you used to enjoy our camps pre-pandemic, the British Soccer Camp.
All of Challenger's camps are staffed by a team of international coaches who are selected and trained specifically to give your child the best possible camp experience. Each of our curriculums have been created to maximize your child's contact with the ball and provide the maximum opportunity to learn. In addition to serious coaching, we weave in just the right amount of fun and cultural education to make this a magical week for your child.
We have camps and programs for all ages and ability.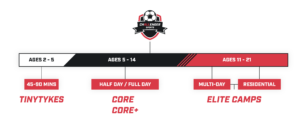 The ages we provide are guidelines based on each program's duration and curriculum. However, all athletes must be 2 years or older. If you are trying to register with a local host organization then the situation may be different and you would need to contact them or failing that, your local regional director. 
If you need further assistance with this please call 1-844-674-8404 or click here to email camps@challengersports.com.
Summer programs take place from late May to August and last for one week. Typically, the players will meet at the same time and place every day (M-F) that week for camp.
Each age range will follow a separate program, however both programs will typically include individual footwork exercises, pairs and small group practices, small sided games, and coached scrimmages.

Historically we average around 12-16 players to one coach.

No, our coaches do not provide child care. Check individual listing for early drop off and late pick up options.
Absolutely, we can create a camp specifically for your team. We will send you a team analysis sheet so that you can help us identify the strengths and areas of improvement to focus on for the team. Please call our customer service team at 1-844-674-8404 or email us at camps@challengersports.com so that they can put you in touch with your local Regional Director.

For general questions please call our customer service team at 1-844-674-8404 or email us at camps@challengersports.com. For questions regarding a specific camp, please contact your local Regional Director.

If you're having difficulty finding a camp in your area, refer to the "How do I search for a camp?" section above. If you are a resident of Canada, be sure to type in your code in all caps with a space after the third letter like this: V1N 3B2. If you are still struggling we can be reached at 1-844-674-8404 or email camps@challengersports.com.
This has become one of the most popular elements of Challenger's Summer Camp program. Each year we receive hundreds of emails from families telling us what an incredible time they had hosting one of our coaches. The coaches on your camp will stay with local families in your community for the duration of the camp week. In return, not only will you receive a rebate of up to $80 towards the cost of your camp fees, but more importantly you will enjoy a unique week learning about foreign countries, cultures and customs and building lasting friendships with our staff.
If you would like to volunteer to host a coach, please contact us.
If your camp package included a ball, this will be given out on the first morning of camp – please bring this each day, along with plenty of water. If your program did not include a ball, please bring one with you. If you are unsure, then please bring a ball on the first day just to be safe.
We also recommend that you apply sunblock before camp and if your child is there for a longer period of time, that they have some available to reapply. 
Shin guards are required for all children attending camp for at least 3 hours OR 6 years of age or older. If your child has cleats then they can wear them, the are not mandatory though and please supply an alternative where possible. You will be able to talk to staff at check in if you are unsure about the surface the camp will be held on.
Most full day camps (as well as those camps where your child is staying for an Overtime bonus camp in the afternoon) include a supervised lunch break which will require you to prepare a packed lunch, although this may differ depending on your location so please check your reminder emails in the build up to camp.
Every camp can different so please check during registration what is included. However the majority of our camps are Core Camps which include a ball and t-shirt (delivered at camp and typically handed out at registration) and a certificate (typically handed out at the end of the week). 
If you opt in to receive the Early Bird replica jersey or any other items then they will be shipped directly to you.
More information on all of this can be found in our troubleshooting section further down in our FAQs...
Should we experience bad weather, you may reach out to your local camp contact, whose information can be located in your camp reminder email. Camp will be postponed or cancelled if conditions are dangerous (thunder/lightning), and no athlete will be left unattended. Refunds will not be given for time lost due to inclement weather.
We will communicate make up plans both in person to parents at camp and via email. We  understand that sometimes it can take parents a while to organize pick up plans if for whatever reason we need to cancel a day of camp completely. We will make every effort to make up time lost to bad weather however should the camp not be completed in its entirety refunds will not be provided. 
We also have Air Quality and Excessive Heat Policy Guidelines. These guidelines also include a reference as to when programs will or will not continue due to Air Quality. There will be no refunds due to time lost in these situations.
Yes we require parents or authorized guardians to check in with us at the start and end of each session.
You can register up until the first day of camp, if there are still open spots available (camps do fill up so be sure to register early!). There is a $10 late fee that is applied to registrations processed within 10 days of the start of camp.

Please refer to the cancellation/conflict question below. You will have been provided contact information in your reminder email in the build up to camp if you need to speak to someone. 
Cancellations by a parent if payment protection was declined, not available or due to any other reason outside of injury/illness will be handled as follow:
If a customer cancels their weeklong day camp* at least 30 days prior to the start of camp then they will be eligible to claim Account Credit. A refund will not be issued. No Account Credit will be available if they cancel within 30 days of camp. *See exceptions below for our Elite Camps.
On our year-round Club Partner and Programs (previously referred to as "Academy") the same terms will apply as on our weeklong day camps above, the only exception is that Account Credit is still available for anyone who cancels up to 14 days before the start date of their program.
On our Elite residential camp (which typically run Sunday- Thursday), a $250 deposit is required at the time of registration. The remainder of fees will be collected via recurring payments until the balance is paid off. Any registration canceled more than 30 days before the camp start date will be entitled to a refund of all monies up to but not including the deposit amount. Any registration canceled within 30 days of the camp start date will not be eligible for a refund of any kind, but instead will receive a credit to their account valid for a period of one year, minus the deposit fee.
On our Elite day camps, a $100 deposit is required at the time of registration. The remainder of fees will be collected via recurring payments until the balance is paid off. Any registration canceled more than 30 days before the camp start date will be entitled to a refund of all monies up to but not including the deposit amount. Any registration canceled within 30 days of the camp start date will not be eligible for a refund of any kind, but instead will receive a credit to their account valid for a period of one year, minus the deposit fee.
Any refunds will not include any processing fees incurred during online checkout.
Cancellations initiated by the Releasees will entitle all registered participants to a full refund, minus any merchandise purchased and already sent out.
Full refunds for illness/injury are offered IF payment protection was purchased during online checkout. Read full terms and conditions here. If the option was not present during online checkout then it is not available to the parent and cannot be purchased. It also will not be offered retrospectively.
Payment in full is required at the time of registration for all day camps. Payment plans are available for Elite Player Camps residential programs
Challenger provides scholarships for campers in exceptional circumstances however please first contact your local soccer organization hosting the camp to explore scholarship opportunities through them. You can contact our customer service department if you have further questions on this.
Generally, day and recreation programs primarily for kids under 15 are not subject to SHT/HST/QST only when provided by charity, NPO, municipality, school authority, or a public college/university. Since we at Challenger Sports are none of the above, we are put in the same category as fitness clubs, for-profit programs, etc. and the soccer programs are taxable as directed by the Canada Revenue Agency. Merchandise purchased during registration will also be subject to additional taxes and will be collected from the customer by Canadian revenue agencies upon delivery.
Your child will still receive a ball and shirt, but not on day 1 if you signed up within 10 days of camp. Please bring your own ball in case.
We do not offer prorated options but please feel free to contact your local regional director to discuss on a case by case basis. 
We offer Early Bird Pricing on our most of our camps. We also include VIP offers on merchandise which we believe is GREAT value for money on top of what is already a reasonable day camp price. 
Discounts on other programs will be offered and made available occasionally so keep a look out for these on both email and social media. 
We confirm our coaching assignments on most programs around 5-6 days before the camp or program start. At registration for your first session you will be able to meet all staff on site, including any coach/es your child will work with.
The majority of our programs are co-ed, unless otherwise stated in the program description. If you are looking for a gender-specific option, please contact your local regional director.
Our groups are initially split by age. At any time, our coaches may move an athlete to a different group, based on their skill level. You can always speak to the staff on site if you have a special request like this but we would request that you allow us to start programs on time on the first morning and make our own professional assessment too. Our staff will make sure that your child leaves having formed new friendships!
Please contact customer service at 1-844-674-8404 or click here to email camps@challengersports.com
The early registration promotional jerseys are an incentive for early registration and are free (pay only $10.95 S&H in the U.S., $12.95 in Canada) if registration is completed more than 30 days prior to the start of your camp. If you sign up after this date, the jerseys are still available but at the regular price of $24.95. If you are registering before the deadline, the price of the jersey will show up in your cart on the discount line like this: (24.95) which means that this amount will not be applied to your total.
We appreciate that sometimes it can be frustrating to see two fees listed, one for each jersey, but this fee is to cover all processing, handling, and shipping costs for each item. As these are promotional items each must be processed separately and while it is likely that they will ship together to the same address each item will incur a cost along the way.
Unfortunately, shipping fees continue to go up year after year and Challenger has been working diligently to still offer this promotion and make sure the shipping and handling fees remain fair. Please understand that it is not Challenger's intention to ever charge more than what is needed to cover the shipping and handling fees of each item and we appreciate your support and understanding.
If you do not wish to pay the $10.95 shipping for the free replica jersey ($12.95 in Canada) simply select "no thank you" from the drop down box where the sizes are listed.
A free soccer ball and t-shirt are given out with most of our summer programs. These items are not shipped to your home but given out on the first day of camp. Only the promotional jersey (should you choose one) and any additional merchandise ordered are shipped to your residence.
Should you be granted a scholarship through a recreation department, you will be given a code that can be entered (copy & pasted) on the payment page of registration and your order total will be adjusted.
To ensure your financial security online, we will not be able to process cards with mismatched billing addresses (even if this works for you on other websites). So should your card come up as declined, try an older billing address. Even if you've not moved recently or have updated your address with your bank, more often than not a different address will fix the problem!
2-3 weeks for your exchange. If you have ordered the wrong size, please ship the items back in their original packaging and include a note with instructions for the size required. Challenger will ship the replacement items back at no additional cost in appreciation of your business. Please send returns to Challenger Sports, 3122 S24th Street, Kansas City, KS, 66106. For further questions call 1-844-674-8404 or click here to email camps@challengersports.com
What about year-round programs?
Our Club and Partner Programs take place during the spring and fall and are typically 6-8 week long instructional programs that meet once or twice a week (depending on the program).
This is an extension of our older Academy division, and we continue to provide instruction and training to players, coaches, and clubs of all ages and abilities.
Challenger also offers the chance for organizations to hire their own club trainer.
Next Level Training
Aimed at players who want to take their game to the next level. Professionally organized practices that focus solely on individual techniques and skills that will fast track your player(s) game to new heights!
Next Level Skills Leagues
Administered, coached and refereed by Challenger Sports professionals. One training session and one game a week with a focus on individual technical development within a small-sided environment.
Holiday Camps
Soccer sessions offering on national holidays and school breaks; for a day or a full week.
After School Programs
Weekly classes focus on the players as they learn new skills, tricks and turns in a fun environment. A great way to end the school day and help parents with busy schedules!
Futsal Programs
We have developed our own Futsal programming to help support players and organizations through the winter.
Tryouts
We can help run or support you during your tryout process- customize our involvement to suit your needs!
Private Training
Aimed at individual or small groups to help with further development.
MightyTykes
A fun environment for physical and cognitive growth with a focus on the development of key soccer skills.
TinyTykes
An exciting child development program delivered through soccer for preschoolers. 
---
Coach Education
Use our expertise and experience to help educate, train and support coaches in your community.
---
We run all of the programs above all North America but remember, we will always speak to you about customizing your own program.
You can also simply hire a trainer from us for an extended period of time on a part-time or full-time basis.
Ages 6-13 Next Level Training or Next Level Skills Leagues
Ages 6-9 MightyTykes
---
Ages 5yrs+ Holiday Programs, After School Programs & Futsal Programs
---
Ages 2-5: TinyTykes (2-3yrs Cub, 4-5 yrs Lions)
---
If your player is 13 years+ you may be interested in our Elite Player Camps or Programs.
Yes, we provide coaches on all of the programs we run BUT you can also hire a trainer from us to work in your club or organization. 
We have a year-round recruitment team who will find the ideal candidate to work in your club or organization.
Our marketing, registration and administrative support will be available to run programs for you, if that is your preference.
Do you run programs for preschoolers?
TinyTykes has been created by childcare specialists to introduce children aged 2–5 years to the basic skills of soccer through a series of fun games, stories, songs and skill building activities. In addition, children will explore and learn in a relaxed and fun environment building upon their motor, social, physical and emotional skills.
Sessions typically run for 45 minutes to one hour and are held once a week. Program length can vary from site to site, but normally you sign up for 6-8 weeks at a time.
Sessions can be open to all, or in some situations, are offered as an extra-curricular option with one of our partner schools
It can run depending on the region and host organization but typically our TinyTykes programs are weekly sessions that mirror the spring and fall soccer seasons. 
In some parts of the US we will start TinyTykes in February; or possibly offer sessions outdoors as late as early December. 
If we partner with an indoor facility or a school with a small gym or activity room, then we can offer TinyTykes year-round.
We also offer week-long summer camps too, which are normally part of our Core Camps division- we will tend to offer these earlier in the morning before the longer camp for kids aged 5yrs+ start. Visit our Camps page to find out more on this type.
All we ask is that your child wears something they feel comfortable to run around in and kick a ball in (sneakers if possible), and to bring some water.
We don't play any scrimmages so shin guards/cleats are not necessary (but feel free to send them with your child if they do have some). I
f you received the uniform package, this is not compulsory to wear, but the kids do look awesome in them! The soccer coach will have soccer balls & equipment to use, so you don't need to bring a ball to the session.
Yes!
We have a fantastic TinyTykes program package as part of the program fee. For first time players, we recommend the uniform and ball, and then for returning players we suggest choosing from our other options; the Lenny the Lion soft toy, the backpack or the inflatable goal.
These will be shipped directly to you. 
Your child's TinyTykes package should have been sent out within 1-3 days from when you placed the order, and shipped directly to you. If you have your confirmation/order number, you can contact the warehouse and see if they're able to track it - warehouseadmin@challengersports.com
He's our mascot! See below!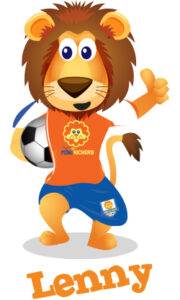 Soccer is the medium we use to deliver our lessons, but the true focus is on developing a child's balance, agility, coordination, color recognition and numerical learning, whilst also increasing their confidence and social skills in a fun and relaxed environment.
That being said, in some locations we offer a multi-skills program too.
Do you sell uniforms and equipment?
Established in 2001, Challenger Teamwear is proud to have geared up and put more than two million smiles on kids' faces through our products. As a company made up of employees all connected to sports, we are driven by passion and fueled to support youth sports across the world.
Yes, it's a simple and easy process. Choose from your items, styles, and colors. Add in your graphics, review your mock ups and then place your order for production.
For Fall Orders done in Mid July through Early /Mid September turnaround time is 3 weeks and one day. 
Spring Orders done in Mid March through end of April is 7-10 days.
Uniform kits starting as low as $15 per set.
Equipment, team stores, spiritwear, multi-sport uniforms, as well as offering other product ranges from Under Armour and Nike.
We host 20+ tournaments annually. Most are held in Kansas, either in the KC metro area or in Wichita.
Each team is guaranteed 3 games. If your team makes the Championship game, the most amount of games you would play is 4. Games are played Friday evening through Sunday afternoon.
We host tournaments for all levels of play. Each event has Gold, Silver and Bronze divisions available which caters to Division 1 level all the way through Recreational.
A team must be registered with USYS, US Club or USSSA. Each player must play on a team that is registered with one of those associations. 
Yes, we are able to work around league games, time restrictions and coaches with multiple teams to ensure your coach makes it to every game. 
Tell me more about Challenger World Tours?
Individuals or teams can travel with us to explore new destinations and see the world through soccer!
Customized itineraries including the United Kingdom, Mainland Europe, South America and more

Basically to wherever you want to go, but primarily:

THE UK: ENGLAND, WALES, SCOTLAND & IRELAND

MAINLAND EUROPE: SPAIN, ITALY, GERMANY, HOLLAND, FRANCE (or wherever you request)

BRAZIL: São Paulo, Rio De Janeiro
8 day tours start at $1,695
10 day tours start at $21,95 (dependent on inclusions, destinations and type of tour)
No, but we can arrange all of your flights for you. We use a consolidator to find the best group rate and schedule for you. However we do not mandate that you take the tour flight with us, allowing you to arrange your own group flight if you wish or purchase individual flights or use frequent flyer miles.

CHALLENGER WORLD TOURS (CWT) GROUP FLIGHT OPTION: Once the group has made a decision to hold a presentation evening and have enough interest in the tour, we either give an estimate of what the group flight might cost or we provide them with an actual group flight cost and schedule (we can only provide this 11 months or less out from time of travel as airline schedules are not published until that time).

The group or individuals within the group do not have to take the group flight.
Great, we can tell you more then! 
Visit our Tours page!
At Challenger Sports, we have designed an Elite Player Pathway from the age of 11 years for players or student athletes aspiring to play at the next level. This can mean advancing their own game or, if they're ready, preparing them to look at collegiate or professional level options.
This is also incorporates a Coach Licensing Division, aimed at providing further coach education opportunities for those looking to enhance and develop their own coaching resume.
Via our Elite Camps or ID Combines, access is provided to our domestic Study and Play partner, SPIRE Academy, based in Northern Cleveland, and our international partner, Steven Gerrard Academy, based in Liverpool, UK.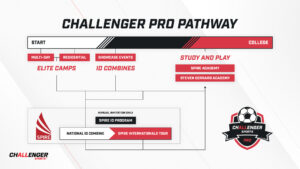 We took the curriculum and infrastructure of both of these legacy programs and brought them under the Challenger Pro umbrella. If you enjoyed these programs in the past then our Elite Camps will be a great fit for you.
Our Elite Camps start at 11years, and by 9th grade we have options for you to attend SPIRE Academy in Northern Cleveland or join us on tour.